'To do nothing is to guarantee (Atlantic whitefish) disappear from the planet, and that would be a tragedy'
Article content
After decades of being endangered and on the brink of becoming extinct, there's new hope for the Atlantic whitefish, a species that is unique to Nova Scotia, with researchers out of Dalhousie University successfully producing 2,200 juvenile fish.
Article content
Paul Bentzen, a professor at Dalhousie University, and Aquatron Manager John Batt started conservation efforts four years ago, in 2018.
However, Batt says that his work to save has only just begun.
"This is the first step to showing that we can put together the tools to produce more fish. It's a long road from here with their main habitat being invaded by aliens," he said.
"The objective is to reintroduce them into the wild both in their original habitat and elsewhere…. Range expansion and relocation are important because the threats in their current habitat are just insurmountable."
According to Batt, the chain pickerel and smallmouth bass fish are just some of the many invasive threats rural lakes in Nova Scotia have become heavily populated with. These fish are known for outcompeting native species like the Atlantic whitefish, which dates back 14 million years and exists only in a rural Nova Scotia watershed.
Article content
Both Bentzen and Batt are working alongside the Department of Fisheries and Oceans (DFO) and Coastal Action to ensure that these whitefish can sustain the external pressures of non-native predators. Things like climate change, land development and over-saturated sport fishing are some of the local threats endangered species face.
The conversation around the recovery plan for the Atlantic whitefish is one all levels of government are taking seriously. Strategies include increasing the number/range of viable populations and strengthening provincial regulations to reduce the spread of non-native species.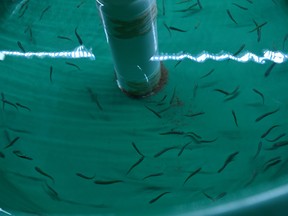 Many watersheds across Atlantic Canada are filled with smallmouth bass fish due to the overwhelming interest in sport fishing. Coastal Action claims the fish was first introduced in 1942 by the government to encourage sport fishing in Nova Scotia.
"With the introduction of invasive species, it's really an uphill battle now," said Batt. "The chain pickerel are ferocious predators; they'll eat anything they can get ahold of."
To this day, the illegal introduction of foreign predators still occurs to induce sport fishing.
Bentzen said that Atlantic whitefish don't stand a chance without intervention.
"Captive breeding is a critical tool to buy some time and give you an insurance policy," said Bentzen.
"To do nothing is to guarantee the species of these fish disappear from the planet, and that would be a tragedy."
Checkout latest world news below links :
World News || Latest News || U.S. News
The post Researchers successfully breed ancient endangered fish found only in Nova Scotia appeared first on WorldNewsEra.